Designed for small and midsize businesses looking to expand their online presence, BigCommerce is one of the best e-commerce software solutions available. Its features are designed to help users make the most of their online store, from designing a site to managing their inventory. The platform is also designed to handle orders in real time.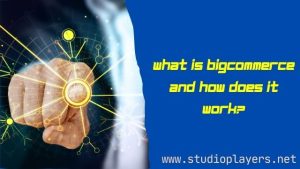 BigCommerce is a SaaS e-commerce solution that offers a variety of high-quality features, from omnichannel selling to automated image optimization. This e-commerce platform also has an integrated API that allows merchants to easily integrate third-party applications into their store. This e-commerce platform also has a variety of integrations with popular payment services and POS apps.
One of the most important features that BigCommerce offers is a multi-store creation feature. This feature allows users to create multiple versions of their online store, which allows for content and currency changes. This is an ideal solution for businesses with many product variants.
BigCommerce offers several useful features that are often overlooked, including a plethora of payment gateways, a streamlined content management system, a product review module, and a drag-and-drop page builder. This e-commerce platform also allows users to create custom fields, which makes it easy to enter data into a product at point of purchase.
Another useful feature of BigCommerce is the ability to send automated emails to customers who abandon their cart. This e-commerce solution also has a built-in product review module that asks customers for feedback after they receive their order. The BigCommerce community forum is a great place to share ideas and find answers to your most pressing questions.
BigCommerce also has an analytical module that shows you a quick overview of your store. This feature is a good way to find out how you are doing, and it also enables you to make more informed decisions when it comes to your store. This is especially helpful if you are launching a new store.
BigCommerce's drag-and-drop page builder is a nice new development, but it is not as advanced as Squarespace's layout engine. This is a good feature for people with no programming experience. The e-commerce solution also has a variety of themes to choose from. The themes are not easy to customize, though.
BigCommerce offers a wide range of support resources, including user docs and a community forum. Its support team is available to customers twenty-four hours a day, seven days a week, and can be reached by phone or live chat.
In addition to offering a wide range of support resources, BigCommerce also has a well-known payment processor. This e-commerce solution integrates with a variety of payment gateways, including Paypal, Stripe, and Braintree. These payment providers are known for their low rates, and they also offer preferential rates to customers in some countries. The payment processor that you choose will depend on your own preferences.
There is a trial version of BigCommerce available for new users. This e-commerce solution is designed to test out the platform and its various features. The trial version is limited in customization, but it does have all the core selling features.