Sprout Social is an all-in-one social media management platform that allows businesses and organizations to manage all of their social media accounts from one place. It offers social listening, analytics, and scheduling functions. It is designed to meet the needs of both small and large organizations. Sprout Social can help businesses grow their online presence, boost market share, and foster a loyal customer base.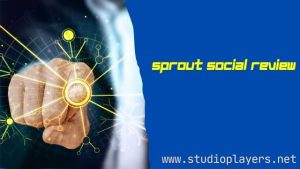 Sprout Social is designed to help businesses make sense of the massive amount of data that they gather from their social media accounts. It provides comprehensive statistics and analytics to help businesses make decisions based on their data. It can also help businesses find influencers and trends before they become mainstream. It can also help businesses build brand awareness and maintain consistent branding and messaging. The platform can help businesses create custom reports that can be shared with other users.
Sprout Social is ideal for large organizations with multiple social media accounts. It has extensive reporting functionality and an easy-to-use interface. It provides analytics for engagement, demographics, cross-network paid performance, and competitive analysis. It also provides the ability to track keywords, hashtags, and more. The platform allows users to create and schedule posts on the go. It also allows users to create chatbots, which are automated conversational tools that can help businesses respond to customer inquiries faster.
Sprout Social has a free trial available, which allows you to get a feel for the product before signing up. The service also offers three plans: Sprout Social Business, Sprout Social Pro, and Sprout Social Advanced. Each plan is available on an annual or monthly basis. Each plan offers different features and prices. Sprout Social Professional costs $149 per month on an annual plan, while the Advanced plan costs $279 per month on an annual plan. The company has also increased the price of their service over the years.
Sprout Social is a valuable tool for marketers and social media managers. It provides a central hub for managing all of your social media accounts and provides you with tools to help you develop a social media strategy. You can also build interactive charts and share reports. It is also helpful for analyzing trends, listening to conversations, and finding influential influencers. Sprout Social also provides a scheduler, an API, and content management features. It can also provide insights into the demographics of your followers.
Sprout Social also helps you manage reviews from multiple sites. It integrates with Zendesk, Google Analytics, and UserVoice, and it provides workflow functions. This allows users to assign tasks to team members and review their performance on social media. It also allows users to build and manage a library of content, which can be reused by other users. Sprout Social is also designed to help businesses track their competitors. It can help businesses find out what kind of content their competitors are posting, what types of hashtags and keywords their followers are using, and more.
Sprout Social also allows users to build chatbots that can assist customers with repetitive conversational tasks. These chatbots can help businesses resolve customer inquiries faster and create unique marketing experiences.