Whether you are looking to create a small business, connect with customers or just stream a random show for friends and family, Restream can help you create and distribute high quality content. It is easy to use and offers a variety of features. You can even use it to interact with your audience on multiple platforms at once. It is easy to start a stream using Restream, and you do not need to buy expensive equipment. You can stream from your desktop, phone or GoPro.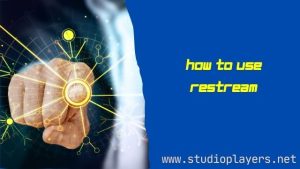 The best part is that Restream is able to stream to more than 30 social platforms at once. The platform even allows you to schedule pre-recorded videos. It also has a built-in Studio feature, which lets you live stream your camera directly to your audience. The company also offers 100GB of cloud storage for your audio and video.
You might also be interested in the Restream Chat, which lets you manage chat communications from all of your channels on a single screen. The Restream Chat also lets you track performance insights. Its other cool features include a countdown timer and the ability to play local videos. It is also worth noting that it is easier to use Restream than many of its competitors.
When choosing the best platform to use, consider the type of content you plan on streaming, as well as your audience. While there are numerous platforms, Twitch is a popular choice for gamers. It also offers a range of different subscription tiers, from the free plan to the premium tier. The free plan does not allow you to stream to Facebook groups, so make sure to buy the premium plan if you plan to stream there.
The Restream website also provides information on all of the features that the company has to offer. It also has a variety of tutorials to help you get started. It even offers a $10 free credit to new customers. The company also sends a weekly email summary of all of the new tutorials it offers.
The company also has a helpful blog with a lot of useful information about streaming, including tips and tricks. The company also offers a video tutorial to help you learn how to create your first live stream. The site also has a section on equipment, which will help you determine what to buy.
Using Restream isn't too complicated, and the company's website makes it easy to learn all of the features. You can stream to multiple social platforms at the same time, and you can schedule videos before you broadcast. This can save you time and effort, and give you the flexibility to grow your audience on different platforms. It is also a good idea to buy a good microphone and lights for your stream, as well as a good recording device. The software is compatible with all platforms, and offers a lot of other features, too.
Streaming has become an increasingly popular way to connect with your audience. It can be a marketing tactic, a chatting feature or a sports event. It is a good idea to make sure you invest in the best quality equipment possible, and use a reliable streaming platform like Restream.