Whether you're a high school student or a math pro, you can use QANDA to get an A in your math class. This app can help you solve algebra, geometry, and trigonometry problems. It also has interactive graphs to help you work through problems. And if you're looking for a way to earn some extra coins, you can pay teachers to help you with your problems.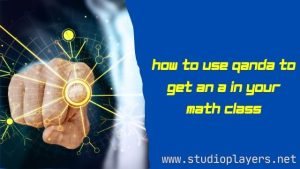 While there are many other apps available on the market, QANDA is one of the most popular. It's available for both Android and iOS devices, and offers a variety of features. Specifically, the app uses the latest artificial intelligence (AI) technology to solve problems. It also has a large community of users, which gives it the ability to answer questions.
Using QANDA, you can upload pictures of math problems and have QANDA's AI solve them for you. You can even upload your own questions and get answers from teachers. Once you've solved a problem, QANDA will provide step-by-step instructions for you. And if you're looking for an advanced calculator, you can also download one from the app.
QANDA also comes with some features you might not have expected, such as the ability to create and share flashcards. In addition, it provides a list of the best web search resources. You can even send feedback to improve the quality of translation. It also gives you the option to download a PC version of the app for your own use.
QANDA is also available in a Korean version. QANDA has offices in Vietnam and Indonesia. In fact, it was founded by Mathpresso, a Korean startup. The company is known for producing high-quality apps with the latest technology. The company has also landed in the top 20 education charts in 20 countries in 2021. You can download the app from the Play Store. You can also find third-party APK files of the app on the Internet.
In addition to the aforementioned features, QANDA also has a number of other gimmicks. For example, it has a system that filters content based on the grade of the problem. You can also choose a tutor that best suits your needs.
For the true aficionados, you can even create and share your own flashcards. If you're looking for the cheapest way to learn math, you can't go wrong with QANDA. Using the app, you can solve math problems for free, and earn coins if you do a good job. But, you may want to pay a bit to learn from some of the world's top math teachers.
It's no wonder that QANDA has become one of the most popular apps in the Google Play Store. Not only does it offer solutions to equation problems, it also has a large community of users who are willing to help you. You can also use QANDA to find out how to improve your English. Whether you're a high school or college student, you can use this app to help you solve equation problems and earn extra coins in the process.