Streaming live videos is an easy process with the DaCast video streaming service. It's a great way to share your passion for your hobby or business with an audience that wants to see what you have to offer. Whether you're a professional videographer or new to live streaming, the DaCast video platform can help you create and publish a live stream on your website.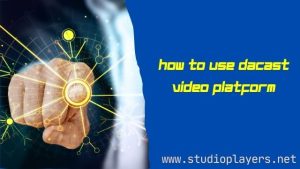 The DaCast video streaming platform is built to be intuitive and easy to use for beginners. It's a SaaS solution that allows users to easily create live video streams, broadcast educational content, or offer VOD content. Besides being easy to use, DaCast offers analytics, payment, and monetization options. In addition, it's also integrated with Google Analytics and is compatible with Google Sites.
To use the DaCast video streaming service, you'll first need to create a DaCast account. Then, you'll need to create a "Live Channel" and add a video to it. It's important to use a high-quality video when streaming to ensure your viewers get a great viewing experience.
Once you've created your channel, you'll need to set the video quality, description, and splash screen. Once you've done that, you're ready to stream. However, before you start streaming, you'll need to ensure your iOS device has a strong Internet connection. If you don't, you'll end up having trouble streaming to viewers. You can also check out the full streaming guide on DaCast's website.
In addition to the live streaming service, DaCast offers an analytics platform that provides insights into how viewers engage with your content. In addition, the DaCast Player API allows you to integrate your video content into your own website or mobile app. You'll also be able to track how much real-time data your viewers are using. In addition, you'll be able to choose between three different monetization options: donations, memberships, and subscriptions.
If you're a new user, you can sign up for a 14-day free trial. You'll also need to provide your PayPal or Stripe email address and create a password. Then, you'll be able to embed the DaCast embed code on your website, blog, or social media.
If you plan to host live streams, you'll want to use DaCast's Overage Protection. This feature prevents you from streaming when your monthly bandwidth is exceeded. In addition to preventing overage, DaCast also lets you set a price for the content you're streaming. You can also restrict your video to only view on your own website.
DaCast also offers a free encoder. This open-source encoder lets you convert RAW video files into digital files. In addition, it supports a number of ad networks. It also includes a watermark feature, which allows you to place a small logo or watermark on selected video assets. You'll also be able to set custom branding for your player.
There are also a few other monetization options available, including a pay-per-view option and subscriptions. However, it's important to keep in mind that the pay-per-view option is only available to users with a Premium plan. It's also important to understand that DaCast's paywall only accepts PayPal.