Pokemon Scarlet and Violet provide fans the opportunity to run wild across the plains Paldea, scooping up Pokemon as they frolic through the long grass, and battling opponents in an endeavor to become the best Pokemon trainer alive. There are new features abounding in Scarlet and Violet, and of course, a large range of repeating mechanics that have endured the test of time.
Players can look forward to facing Gym Leaders, the Elite Four, and learning about new Pokemon distributed over the island of Paldea. Furthermore, there are new Pokemon to capture and old favorites to face off against once again. Scarlet and Violet both feature the return of raids, giving players the chance to test their mettle against the game's full range of challenging Tera Star Raids.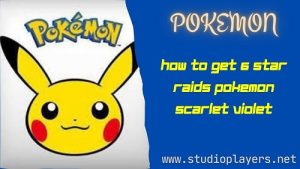 Six-star Raids are exceedingly difficult and require a higher level of Pokemon to overcome. You'll need to throw everything at these Raids to come out on top. In Pokemon Violet and Scarlet, here is how to gain access to the 6-star raids:
Clear 10 Battles of 4 Star Raids
Clear The Gym Rematches
Clear The Ace Academy Tournament
Clear 5 Star Raids
After you've completed these, Jacq will ring you up to take on more challenging Tera Raids that include Black Crystals. These raids can be located either by searching for them at random online or by looking for the black flashing indicators that indicate where a raid would typically be.